Unido Crypto Visa/Mastercard Card Program
The Unido Crypto Visa/Mastercard Card Program is now ready to go live and will commence June 2023. The information on this page is pre-launch information only. It is indicative of the offer but is subject to change prior to product launch. Check back here regularly for updates.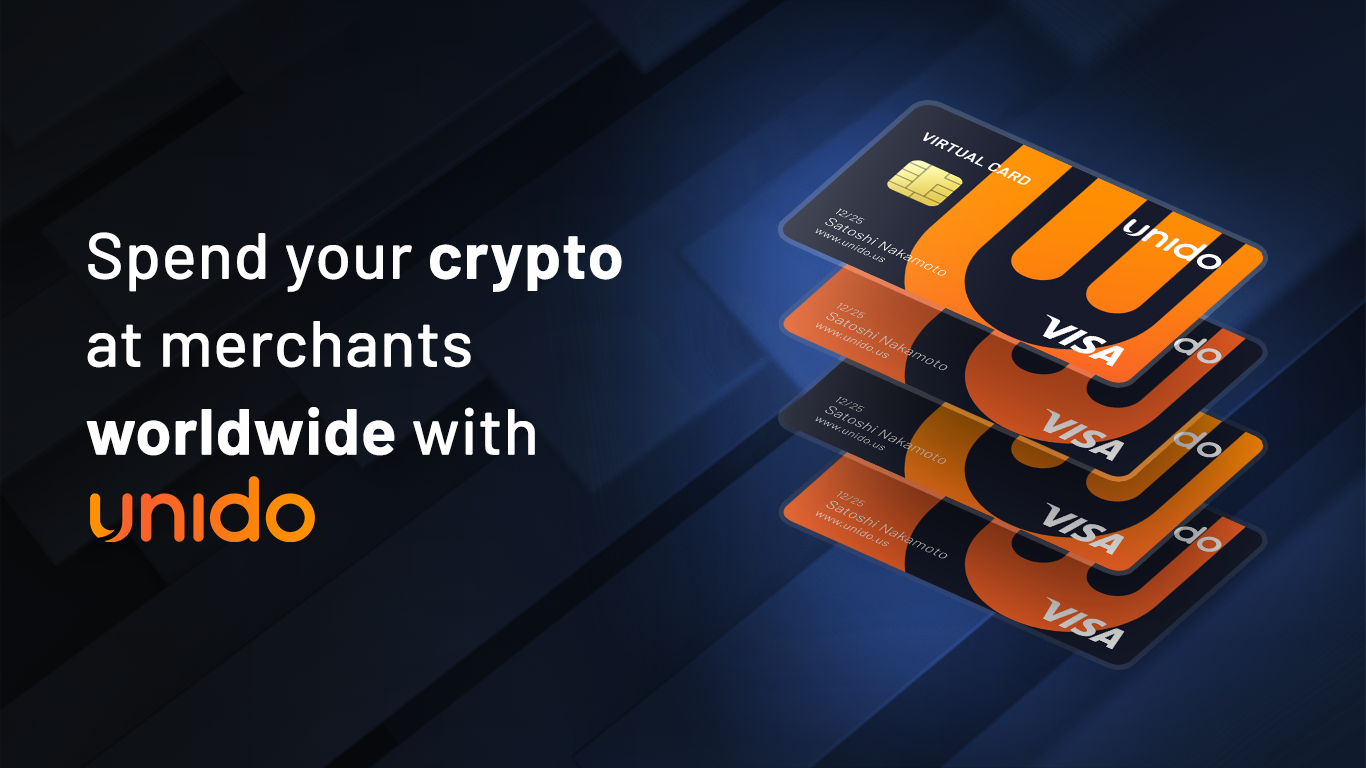 About the cards
Unido cards can be used with millions of merchants and 1% of every top-up fee buys and burns $UDO, making the token further deflationary! *
Highlights
Virtual Visa/Mastercard pre-paid cards will be available from the first week of June

Physical cards will be available later this year

Virtual cards have no KYC requirements – just load with crypto, and start using!

Zero transaction fees!

Can be issued to anyone, anywhere and can used anywhere that normally accepts credit cards*
Virtual Card Features
🎫 Visa and Mastercard available
🏪 Supports Google and Apple Pay
💵 $5000 limit
♻️ Refillable
💸 Top up using BTC/ETH/USDT or other crypto
Unido Virtual Visa/Mastercard Fees:
- Zero fees on transactions
- $9 new card fee (paid once only on creation of your new card)
- $3 monthly fee (deducted automatically from your card)
- 3.75% load fee – the only fee payable when re-loading extra funds onto your card
Frequently Asked Questions (FAQs)
How to add to mobile wallets?

These cards can currently only be added to mobile wallets (Google Pay, Samsung Pay, Apple Pay) if they are registered with an active USA/Canadian mobile telephone number.
In order to add the card to a mobile wallet, it will be necessary to verify the phone number either by SMS or via a phone call, depending on the type of card and issuing bank.

Where don't these cards work?

These prepaid virtual debit cards do NOT have 3D Secure (like 2FA for card transactions) and, therefore, they will not be useable if the merchant/platform requires 3DS.

Visa, Mastercard or the issuing banks may choose to restrict their services in specific countries, regions or even for specific merchants. This is entirely at their discretion.

Merchants and PSPs may choose to not accept prepaid virtual debit cards. This is out of our control.

Where do these cards work?

These crypto-funded prepaid virtual debit cards can be used anywhere Visa/Mastercard virtual prepaid cards are accepted, at least in the issued native currency, either using the card number, expiry and CVC code or with touch and pay (contactless/NFC) POS terminals when added to mobile wallets.

Can I convert funds back into crypto?

No. By swapping your crypto to fiat balance on a prepaid virtual card, you have effectively sold/off-ramped said digital assets.

Which regions are these cards available to?

These virtual prepaid debit cards are not available to OFAC sanctioned countries or countries that are not permitted by the issuing banks and/or Visa/Mastercard.


---
* 1% of card load fees collected will buy W/UDO off the open market and will be pushed through the UDO burn mechanism.