Unido's distributed signing technology, Unido Core, is a deep tech, a patented solution which sits in the background of the app framework providing cold storage levels of security for business transactions whilst maintaining an easy-to-use, networked, app-driven environment.
It offers a solution that enables individuals and enterprises to have a management system that secures the private keys, regarded as the identity and security credentials, that are associated with financial value, which is what attackers are after. This also provides a multi-user governance structure that can map the complex structure of enterprise governance systems related to their custom asset management protocols.
Signing a blockchain transaction requires the entire private key for the account. Unido's core proprietary algorithm divides the key into portions and stores these securely amongst members of the wallet. This distribution vastly reduces the chances of the key being lost or stolen and provides a mechanism for multiple members, varying levels of access, and usage rights - delivering the required governance and security enterprise and sophisticated organizations require to adopt blockchain technology.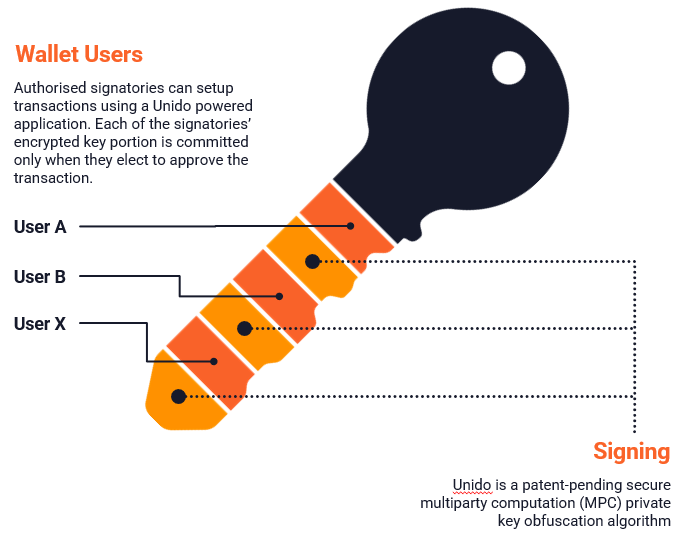 Figure 1: How Unido Works
Unido MPC (Multi-party Computation) ensures that the key is not exposed to any party and is never in the clear - dramatically increasing security for holding and transferring digital assets.
This approach gives an undeniable edge for Unido over traditional key management solutions, as Unido Core allows users to sign transactions involving multiple members within the client wallet (for example, an executive team, partners, even just a second signing device). The solution also provides dynamic wallet scaling (adding/removing members on-the-fly), dynamic currency (same approach, multiple chains), relatively low transaction fees (the transaction is only signed once) and instantaneous response.
Until now, this type of technology has only been available to large business and intuitions. Unido is the first to deliver MPC to the retail sector in an easy to use, download App package.
Unido Core is a patented algorithm - read more here.